Ever since Bitcoin broke out of the lowest bear market trading range where its yearly lows were set, the crypto asset has skyrocketed, reaching prices not seen since before the bear market began in 2018.
Alongside Bitcoin price itself, the crypto asset's dominance comparative to other assets in the crypto market – altcoins such as Ethereum, Ripple, and Litecoin – has also grown to levels not seen since the previous bull run. In the past, the divergence eventually corrects, triggering an alt season. But this time around sentiment around altcoins are at an all time low, and because institutions may be focusing on Bitcoin or other factors, dominance may continue to rise at the expense of any remaining altcoin value. What happens next for altcoins and Bitcoin dominance?
Bitcoin Dominance Revisits Previous Bull Market Levels
Earlier this week, Bitcoin price broke above $10,000 and is already close to an attempt at $14,000 as the time of this writing.
Alongside Bitcoin price rising, so has BTC dominance. The crypto market health metric broke above 60% earlier this week, and is now just below 63.5% – a level where some altcoin focused crypto analysts say could be an area where a strong bounce occurs.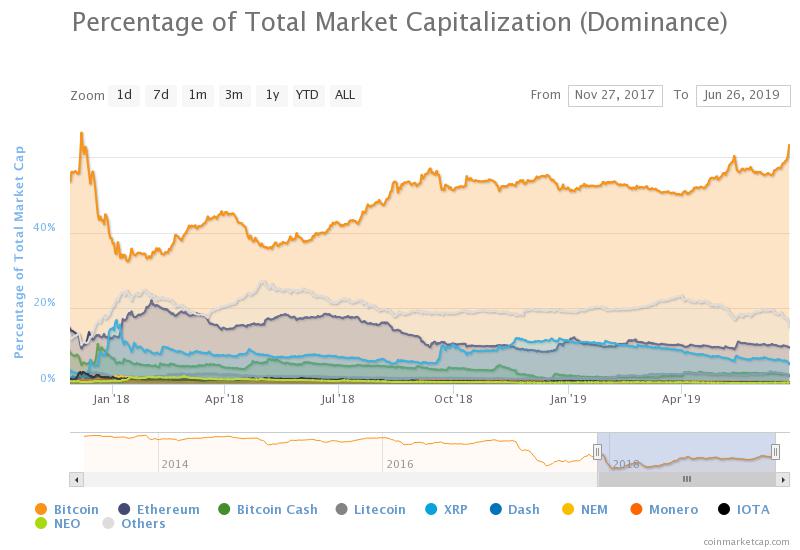 If alts don't bounce, a major capitulation event may be ahead.
Top Ten Crypto Time Hop Shows Altcoin Sentiment Change
During that time, the top ten cryptocurrencies by market cap were valued much higher than current valuations. The comparison clearly demonstrates how the sentiment across the market has diverged so significantly.
The divergence may be due to this rally being driven by "smart money" institutions instead of the retail investing public. Institutions may be focusing on Bitcoin due to it having the most promise and regulatory support. Or, maybe people have realized that there will never again be another Bitcoin.
Whatever the reason, there are critical times ahead for altcoins. They either finally provide investors the alt season they've been waiting for and skyrocket relative to Bitcoin, finally catching up – or, they continue to bleed out and suffer the major capitulation event some analysts are calling for.